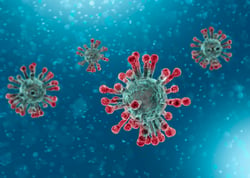 Coronaviruses are a family of viruses that can cause illnesses such as the common cold, severe acute respiratory syndrome (SARS) and Middle East respiratory syndrome (MERS). In 2019, a new coronavirus was identified as the cause of a disease outbreak that originated in China. The virus is now known as the severe acute respiratory syndrome coronavirus 2 (SARS-CoV-2). The disease it causes is called coronavirus disease 2019 (COVID-19) (derived from Mayo Clinic).
Your blood donation could lead to a research breakthrough.
We are currently recruiting for a new project to advance clinical therapies related to COVID-19. Individuals with a confirmed diagnosis of the infection who have recovered are eligible to participate. Plans can be made for you to visit to donate after your recovery.
If you have been infected with COVID-19, please refrain from donating blood at our donor centers for at least 14 days after resolution of symptoms after a diagnosis of COVID-19 or 14 days after the last possible close contact exposure to a person with COVID-19. Contact us immediately and we are happy to speak to you about future donation options to help TARGET A CURE!
To participate, requirements include that:
Recovered donors are eligible to donate.
You must be able to provide a copy of a positive PCR test (saliva/swab collection)
You're willing to donate whole blood or plasma through the apheresis process.
You must have a photo ID and be able to provide your social security number or proof of citizenship.
You must be at least 18 years old.
You must weight at least 110 lbs.
You must disclose if you have ever been diagnosed with Hepatitis C and/or HIV.
Be pre-screened to determine eligibility.
You will be paid for your donation. Fill out the form or contact us at (833) GO-4-CURE to learn more.